Easy Camping Recipes Using Dutch Oven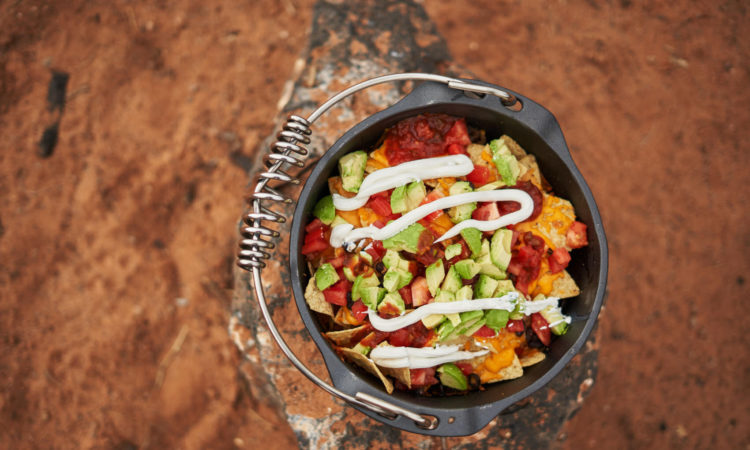 While camping, you get the opportunity to enjoy the beauty of nature and to spend time with your dear ones. Camping food often tastes better and there is an extra flavor when you cook them in an open fire. You may worry about taking a bunch of pots and pans to your camping area. But there is no need to! All you need is just one Dutch oven.
A Dutch oven is a kitchen must-have and is a pride of every kitchen. These are cast-iron pots and you can choose either classic ones or attractive color enamel-coated ones. It is heavy and thick so it can retain the heat exceptionally well. These pots are safe on all types of cooktops and without any concern. You can even keep them directly in the oven.
Once you get used to this pot, you can't imagine camping without this. There are so many easy and interesting recipes using this. Visit www.easycampfirerecipes.com for easy camping recipes. You will also get some useful tips as to how to prepare for camping before leaving home, how to pack them, and much more.
Cleaning also is very easy and is the same as any other cast-iron cookware. Just using a plastic scrubber, you can easily remove the hardened food debris that is stuck in the interior. Then using some warm water cleans the pot and keeps it dry.
Your camping meals need not be boring. With Dutch-oven you can do everything you want to. Here are some easy camping recipes using Dutch-oven.
Dutch Oven Chili and Cornbread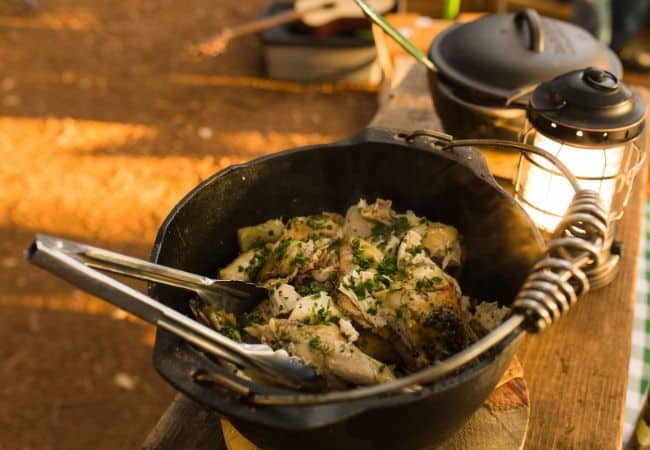 Before you leave for camping, you can mix all the dry ingredients for cornbread and store it in sealed packs or you can also use store-bought mix. You can also make the chili at home and keep it cooler. This will save you time on the trip.
In the Dutch oven, add olive oil and sauté onions. Then add beans, tomatoes, green chilies, tomato paste, and spices. Once these ingredients become soften, spread the cornbread batter on top of your chili and cover the pot. Place some hot coals on the lid. After some 20 minutes, uncover and check whether cornbread is cooked and done.
Now it is time to enjoy chili and cornbread with your family.
Creamy Mac and Cheese
Make this chewy, creamy, cheesy pasta with just a few ingredients, macaroni, milk, all-purpose flour, cheese of your preference, salt, and powdered mustard.
Bring a large pot of water to the boiling stage and add macaroni. Stir occasionally. In about 8 to 9 minutes' drain and set aside.
In a Dutch oven, over medium heat, melt butter and flour. Keep stirring until blends well. Now, pour in the milk and whisk gently until the mixture thickens to the consistency of heavy cream. It will take approximately around 6 to 7 minutes.
Begin to add cheese into this mixture and also add the desired amount of salt and mustard. Keep stirring until cheese has melted.
Finally, add the pasta and mix well until it is evenly coated with cheese sauce.
Now you can enjoy this mac and cheese while it is warm.