ALL YOU NEED TO KNOW ABOUT YOUR FINAL WEDDING DRESS FITTING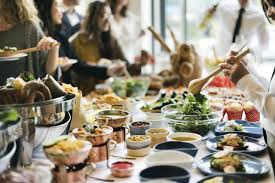 Once you've decided to have a wedding, there is a checklist of things that you need to do before the wedding day. Picking out the Wedding Catering Toronto can be quite a daunting task initially, but once you decide on a caterer all your food worries vanish. However, when it comes down to the wedding dress picking out the perfect dress can be overwhelming and once you finally decide on a dress then you have to ensure that it fits perfectly. When going for your final dress fitting, here are some of the things that you need to keep in mind.
Dress Alteration
The procedure of fitting and altering the wedding dress begins about 6 weeks before the wedding date. When you are fixing the final dress fitting appointment, make it a point to book it as close to the wedding as possible so that the dress is a perfect fit on the wedding day.
It is never too late
Even if it is your last appointment, if you have any questions then ask them. It is never too late to ask questions. The people who would be doing your final fittings would want you to be very happy with the dress. If there is something that you aren't happy with or so sure about then let them know. In some cases, some little final changes can be made. It is your big day and you deserve to have the dress that you've been dreaming of.
Take Proper care
When you are taking the dress home with you, you need to make sure that you are taking proper care of it. Before leaving, ask the dressmaker about how you should take care of the dress. You can ask them various questions like, whether it needs to be steamed or ironed? Whether it needs to be hung in a particular way. Your wedding dress is an investment that you need to take proper care of.
Make note of all instructions
During your final appointment make notes of all the small details and necessary instructions concerning your dress. The little details about the dress will also help the person who would be assisting you in getting ready.
Watch the Weight
A lot of brides like to shed some weight before the wedding day with the help of exercising and dieting. When it comes to the final appointment keep your weight loss in mind so that you are more aware of how the dress fits. Most of the times things like bra cups, Hollywood tape or a small alteration can help to take care of the issue which might arise due to weight loss.
The Finishing Touch
This is the last time you would be wearing the dress before the big day, ensure you complete the look with the wedding heels and all the other accessories. It will help you to have a clearer picture of how you will look on your wedding day.