Cooking Surinam Saoto with Moony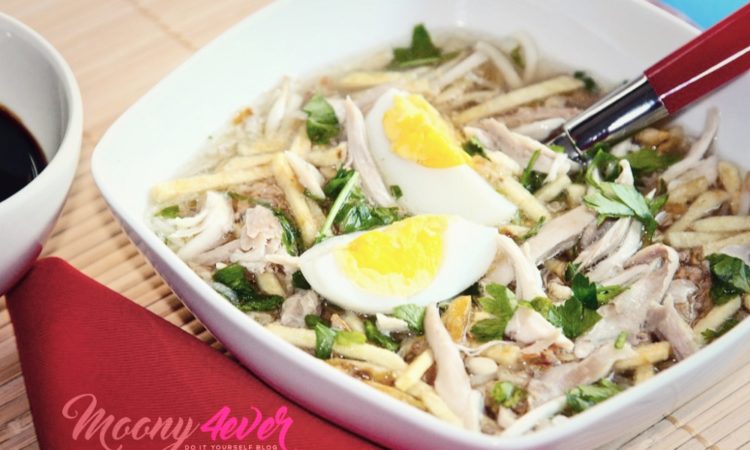 On my food blog https://moony4ever.blog/ I share the little secrets from my mother's kitchen, delicious Surinam recipe's. Today I will share the famous Surinam Saoto Soup, one of my favorites and at least once a week on my menu.
Soto is the general name of a traditional Indonesian soup, consisting of a broth with meat and / or vegetables and often a lot of spices. There are countless different types of soto throughout Indonesia.
Soto is sometimes considered the Indonesian national dish, as it is served from Sumatra to Papua, in a wide variety of variations. Soto is ubiquitous in Indonesia, available in many open-air eateries and on many street corners in fine restaurants and luxury hotels. Soto, in particular soto ayam (chicken soto), is considered to be the Indonesian equivalent of chicken soup. Because it is always served hot with tender texture, in most Indonesian households it is considered an Indonesian comfort food. 
Due to transfer of the recipe in Suriname by Javanese migrants, it is considered to be part of the national dishes of that country also spelled Saoto Soep. As always, there are several ways of preparation, which come from one basic recipe. So the two names represent the same soup on two continents.
A few points to consider before you start. So I always make 10 liters of broth and accompanying garnishes. You can give at least 15 to 20 people a bowl during a party. If you want to make less, which I can imagine, divide everything by at least half. Except the ingredients for the ketjap sambal. Then still invite some people, they will thank you. And pay a visit to the toko in advance and get all your ingredients there.
What You Need For 10 Liters Of Stock:
4 chicken breast pieces

2 stems of lemon grass

2 pieces of fresh galangal (± 1cm)

2 pieces of fresh ginger (± 1 cm

10 allspice balls

2 salad leaf

8-12 small maggie cubes (there are 2 cubes in 1 casing), note: do not use the large stock cubes, because then it will become too salty

1 tsp nutmeg

1 sprig of fresh celery
What You Need For The Garnishes:
1 kilo of chicken fillet

4 small maggi cubes

noodles (white thin noodles that you can fry in the oil)

2 large bags of potato chips for sauto

1 large bag of bean sprouts

15-20 eggs

1 bag of fried onions

possibly: basmati rice
What Else You Need:
large bottle of sunflower oil (because you are going to fry in the oil)

1 or more yellow Madame Jeanette chilli peppers (do you like spicy or not?)

2 large garlic cloves

2 small maggi cubes

1 large bottle of salty soy sauce
Please visit my Food Blog for more Surinam Recipe's, www.Moony4ever.blog