Vegetarian Dishes That Are Incomplete With Liquid Sauce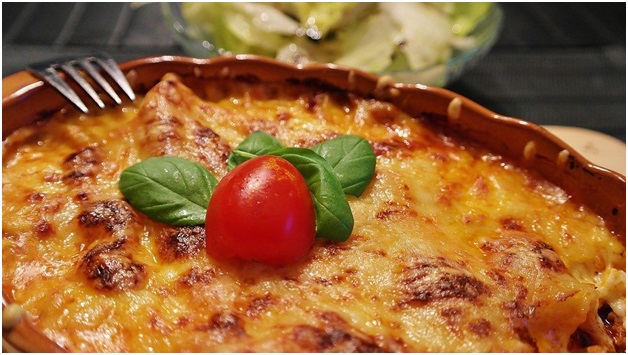 Let me just start this by saying that I am not vegan, I don't follow any specific dieting lifestyle. I believe in eating what I want.  However, cheese is a food that I love so much,cheese is always a favorite for me.
For many of us, cheesy foods are always a symbol of comfort and since the number of people becoming vegetariansisincreasing, I decided to share some of my favorite vegetarian dishes that use liquid cheese. These dishes are quick and easy to prepare and are full of the healthy vegetables.
Vegetable Lasagna
Yes! Vegetable lasagna, this dish will change your life if you are tired of looking for an exciting meatless dish. It's loaded with lots of vegetables and, of course,shredded cheese and cheese sauce.
All you need is lasagna noodles,tomato, spinach, and all the delicious vegetables you like.Sauté the vegetables until they are golden on the edges; it will give them a deeper flavor. Add spinach and cook for a few minutes to prevent it from getting too soggy. Now, layer up the lasagna noodles, veggies, tomato sauce, and cheese and let it cook in the oven. Once done, add some liquid cheese sauce and enjoy! The result is full of flavor, nutrients, and veggies!
Cheesy Vegetable Pasta Bake
A perfect and easy dish for dinner. All you need is 20 mins to cook this delicious cheesy vegetable pasta. Take some vegetables that you like and chop them properly, then you can either boil the veggies or sauté them until golden brown – it's all up to you. Cook the pasta noodles as per the package instructions.
Now, mix all your noodles, veggies, tomato sauce, cheese sauce, salt, and pepper in a baking dish. Bake untilappropriately cooked (30 mins) – YUM!
Broccoli Cheese Bake
There are lots of people who don't like broccoli, but you might not be aware that broccoli has lots of health benefits. So, to make you fall in love with broccoli, here is a twist – Broccoli cheese bake.
It's the cheesiest and creamiest dish you will ever eat, and you will never say no to broccoli again. Take broccoli, cut it into nice pieces, and boil for around 10 mins. Now take a pot and on a low heat melt butter, whisk some flour and salt until its smooth then add some milk and whisk till its boiling and thickened. Now, add cheese sauce, broccoli and combine gently. Finally pour in a baking dish, bake 30-45 mins and dig in.
Mac and Cheese
Mac and Cheese is a classic dish that no one can resist it, and both children and adults love it. I use the Anita Cheese Sauce in my Mac and Cheese. The luscious, glistening, and velvety cheese sauce drowns the entire dish in the most delightful way.
There is no rigid way to cook Mac and Cheese, and I am here sharing the way that my three kids love (By the way, I am the mother of twin boys). Writing about the creamy deliciousness made me so excited to cook Mac and Cheese.