Lebanese food , traditional Lebanese food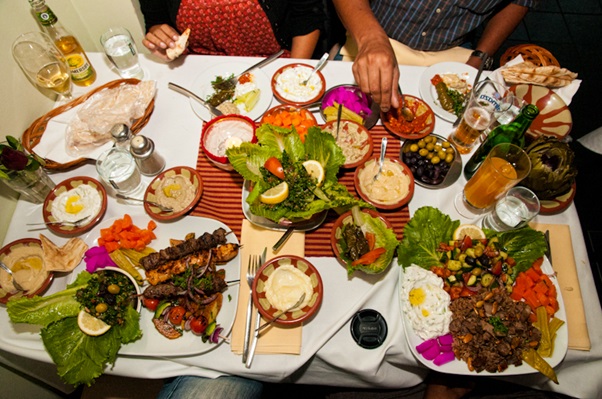 Mediterranean dishes are known for their delectable and delicious flavor,while Lebanese cuisine is better. Most Lebanese cuisines are very healthy while they are very tasty and that makes them more popular.  Many Lebanese dishes such as falafel have become so globalized that made in most countries and are familiar to everyone.  Other Lebanese dishes such as hummus ,kofte ,fatush salad are also popular around the world.  In this post we want to introduce you the most famous and delicious Lebanese dishes. We may know same of these foods and have tried them before ,but others may be new to us. Continue along with us.
The best Lebanese food :
Baba Ghanoush :
Baba Ghanoush is one of Lebanon's most authentic and traditional dishes. This dish is a bit like Hummus and if you like the taste of Hummus you will love this food as well. This dish is usually served with Pita bread and olive oil and has a similar taste to Hummus. The main difference between Hummus and Baba Ghanoush is that Baba Ghanoush is made of eggplant instead of chickpeas and sometimes we can find pomegranate seeds on it. Baba Ghanoush in one of the most famous and delicious Lebanese dishes that has a lot of fans.
Falafel :
Well, Now is the famous and beloved falafel turn. We can say that Fewer have never eaten and have not tried this cheap and delicious food. However, you should know that  falafel is one of the authentic Lebanese dishes and as you know it is made from fried chickpeas.  To make this dish, they put the falafel in pita bread and pour vegetables and sesame sauce on it.
Delicious Lebanese food :
Shawarma :
One of the most delicious Lebanese dishes is undoubtedly Shawarma ,which is made from grilled and chopped meat. Of course, sometimes they also make Shawarma with chicken, which is called chicken shawarma. To make Shawarma, mix the chopped meat with vegetables and sauce and served in pita bread. In Lebanese restaurants, they usually served shawarma alongside the Fattoush salad, which is a unique and delicious combination.
Fattoush salad :
Fattoush salad is another delicious Lebanese salad that has a worldwide reputation.  for making this salad ,thin slices of bread ( usually pita bread )are fried in olive oil and then crushed and toasted then added it to salad and also add the olive oil ,grated garlic ,fresh lemon and salt to the salad . Lebanese salads are very healthy and can be considered as a dietary salad.
Kunafe :
Kunafe is a very tasty and delicious pastry that is popular in Lebanon and also in Turkey and Iran. Thus kind of pastry is often cooked during Ramadan. Kunafe is a type of cheese pastry made from strands called kunafe and is covered with pistachios . You can serve Kunafe at breakfast and also as a dessert.  sometimes you can eat Kunafe with bread which is a very tasty combination.
Kofta :
Lebanese kofta is one of the most delicious dishes with a unique taste. Koftas are actually a small piece of kebab made from a combination of minced beef ,lamb or chicken with onions,parsley ,spices and bread crumbs . Lebanese kofta is served with potatoes and tomato sauce.  you can also serve Kofta with white rice .Koftas are also common in Turkey today and are served in many restaurants of there.
Manakish :
Manakish in another Lebanese cuisine that sometimes called Lebanese pizza . Pour the ingredients on dough and then put in the oven . Actually it looks more like a flavored bread. In Lebanon, most of the breads are covered with thyme ,sesame seeds ,sumac and olive oil. You may find some Lebanese restaurants that use meat or cheese. This food is often served with tomatoes ,fresh mint leaves and olives at breakfast.
Read About Persian Food – Epersian Food